RIMA - Robotics for Inspection and Maintenance! Friss hírek a RIMA honlapján!
Robotok az ellenőrzésben és a karbantartásban – EU projekt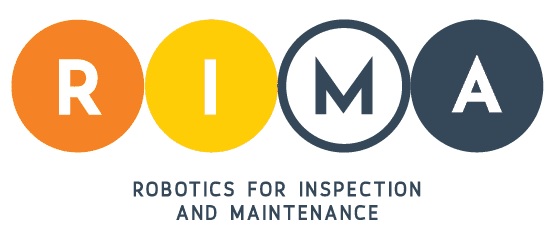 A mellékelt ismertető az EU szponzorálta RIMA projekt részleteit tartalmazza.
A projekt célja a robotok alkalmazásának elősegítése a jelentős infrastruktúrájú ipari szektorok (energia, közlekedés, olaj és gáz, épületek, vízellátás) ellenőrzési és karbantartási tevékenységében. Ezen belül, képzés, technológia transzfer és egyéb úton járul hozzá a robotika kutatásában, az eszközök fejlesztésében, az ellenőrzés szolgáltatásában, illetve a felhasználásban résztvevő intézmények, kis-és közepes vállalkozások fejlődéséhez.
A projekt konzorcium egyik tagja az Európai Roncsolásmentes Vizsgálati Szövetség (EFNDT), aki a nemzeti szövetségeket képviseli. A projekt lehetőséget teremt a szövetségek, így a MAROVISZ tagjainak a projekt által meghirdetett nyilvános pályázatokon, illetve a projekt egyéb programjain való részvételre.
Részletekről folyamatosan közöl információt a RIMA honlap: https://rimanetwork.eu és/vagy az EFNDT honlap: www.efndt.org

Az EFNDT koordinátora
Dr. Trampus Péter.
R I M A – Robotics for Inspection and Maintenance
RIMA is a European Union's Horizon 2020 funded project running from January 2019 to December 2022 with a budget of 16 Million €. The RIMA consortium is consisted ofuniversities, industry associations and research institutes. Its core group is the 13 EuropeanDigital Innovation Hubs (DIHs) with a vast experience in the field of robotics. EFNDT as oneof the industry associations became member of the RIMA network.
Background and motivation of the project
Infrastructure Inspection and Maintenance (I&M) represents a large economic activity – global market is estimated at 450 Billion € – spanning across multiple sectors such as energyincluding nuclear, oil and gas, water supply, transport and civil engineering. There is massive potential for robotic applications, to increase productivity and improve safety, but the totalmarket size of robotics is still negligible in relation to the overall market size. Currently EU is a global leader in this rapidly growing field with more than half of all manufacturers of I&Mrobots based in Europe but there is an obvious gap between the manufacturers and the marketand high potential applications.
Objectives of RIMA
The overall objective of the RIMA project is to tackle this gap by establishing a network of 13 DIHs and industry associations to support the uptake of robotics and help small and mediumsizedenterprises (SMEs) to develop novel solutions for different industry sectors.
The specific objectives of the RIMA project are to reinforce this connection and to provideeducation and training on robotics I&M and to connect the value chain - research, technologycompanies, service providers, end users and investors - for accelerating economic growth inthe field. RIMA is building upon the network pioneered by SPRINT Robotics extending it to all relevant sectors across the value chain. The RIMA network encompasses leading research organizations supporting one DIH per region aligned with regional policies and industrysectors and sectorial associations who will make a bridge with end users and industries.
RIMA offers services including support to testing and technology transfer, coaching and training on robotics for I&M, process optimization and communication. The RIMA trainingframework aims to increase digital skills and knowledge of robotics, especially within the I&M domain, amongst a wide range of people – from students starting out on their career path, through the current workforce who need to retrain, managers who need to understand the importance and effect of digitization, and start-up technology development companies that need concrete information and support for getting their upcoming technology to market.
RIMA supports financially and technically 50 cross-border experiments involving European SMEs through 2 Open Call rounds (2019 and 2020) with a total amount of 8.1 Million €.
Successful candidates will receive equity-free funding for technology transfer and development in I&M robotic applications. The Open Calls will support the development and deployment of robotics I&M applications with grants for two types of eligible actions: Technology Transfer Experiments (TTEs) and Technology Demonstrators (TDs). Please note that the first Call is open!
TTEs consist of developing, testing and validating the technical and economic viability of a robotic-based representative model or prototype system to be applied in 'Target Use Domain' operational environment. TDs consist of validating the technical and economic viability of a new or improved robotic-based technology, product, process, service or solution in an 'Target Use Domain' operational environment, whether industrial or otherwise, involving whereappropriate a larger scale prototype or demonstrator.
Expected results
The expected outcomes of the RIMA project are:
• the increased competitiveness of EU I&M robotics,
• the economic added value by increased productivity and availability of the criticalinfrastructure,
• the social and environmental impact through improved safety and less emission of hazardous substances,
• the constitution of a sustainable and scalable (open to new members) DIH network alignedwith the industrial and European policies and ambitions.
Role of EFNDT
EFNDT is expected to contribute to RIMA in the following areas:
• participating in identification of priorities and helping in definition of challenges mobilizing robotics and automation solutions in the field of NDT,
• dissemination to its members (to the European NDT societies) the information relating to Open Calls and other relevant events giving their members chance to participate,
• dissemination to its members the information relating to the progress and results of the RIMA project (through EFNDT website and Newsletter).
For further details and continuous update please visit the RIMA project website: https://rimanetwork.eu
Peter Trampus
EFNDT contact